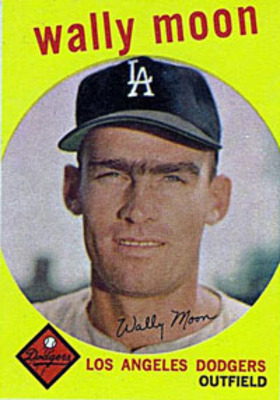 Wally Moon played "Sheriff Bender" in a 1960 episode of "Wagon Train." I only faintly remember the series. The name reminds me of that scene in "Blazing Saddles" where the guys are all sitting around eating baked beans. If you don't remember, I won't elaborate any further.
Wally Moon! He was still an active player in major league baseball. He was a career National Leaguer so you might think we never saw him here in Minnesota. But he came here with the L.A. Dodgers for the 1965 World Series in his last year in baseball. He went 0-for-2 in the Series.
I got familiar with Wally when I was young because of a school textbook. I remember the chapter name: "Baseball and Books." The theme, of course, was showing the importance of reading. Connecting this theme to big league baseball might be especially inspiring for boys. I think the chapter was in his own words.
There was a time when professional athletes tended to be not as well educated as today. One reason major league baseball had to capitulate and start paying more is that athletes discovered more options in life. Of course, the Curt Flood case was the main catalyst. But baseball players were more in a position where they might walk away from the game.
When you read the early chapters of Jim Bouton's "Ball Four" and see the kind of (low) figures these guys were negotiating over, it's quaint and embarrassing.
Wally Moon had the credentials to write his own book chapter. By the standards of the time, he was a superbly educated ballplayer, having gotten his Master's in administrative education from Texas A&M University while he was in the minors. He had a 12-year playing career in the majors with first St. Louis and then the L.A. Dodgers.
He was named after Wallace Wade, a former college football coach at the U of Alabama and Duke University.
He was a headstrong young man when first making his bid to play in the major leagues. It was the spring of 1954. He was signed up with the Cardinals organization, which told him to report to their minor league training camp. Oh, to heck with that, a young Wally resolved, so he went to the Cardinals regular camp in St. Petersburg FL. There he stated he would simply make the team or quit baseball. Chalk one up for assertiveness.
Of course, talent must certainly have been the prevailing factor. This he demonstrated to the extent that when the team broke camp, Moon had secured an outfield position, replacing the well-known Enos Slaughter. Slaughter was traded to the New York Yankees.
Fans in St. Louis weren't totally good with this. When Moon came to bat for the first time in St. Louis, some fans chanted they wanted Slaughter. This was quieted, I presume, when Wally hit a homer (vs. the Cubs) in that at-bat. Just like in the movies.
Dramatic as this was, it was hardly the most dramatic aspect of the game. In this game, Tom Alston got the nod to play for the Cardinals: the first African-American to play for that team.
Moon showed why he never had to bother showing up for that minor league training camp. He was MLB's Rookie of the Year with a batting average of .304, 12 home runs, 76 RBIs, 106 runs, 193 hits, 29 doubles and 18 stolen bases.
Wally Moon has a catchy sounding name but it's not a household name today. In winning Rookie of the Year, Moon beat out a couple guys who would become household names: Hank Aaron and Ernie Banks. Not bad for a guy with a Master's degree in administrative education.
Moon showed a slick glove too, working in center field, right field and at first base. He won the Gold Glove in 1960 and was an N.L. all-star in 1957 and 1959.
Moon went from St. Louis to the Dodgers in a trade that had Gino Cimoli on the other end. I'm sure I got familiar with both guys through baseball cards.
The Dodgers were still fairly new to Los Angeles, having moved there from their Brooklyn NY origin. What a storied franchise that was in Brooklyn. It was there, of course, that black players first broke through that ceiling. The movie called "42" (Jackie Robinson's number) told that story not long ago.
But New York City wasn't going to be able to sustain three big league teams. I'm not sure why, as it's "The Big Apple." The Brooklyn Dodgers became retro, the stuff of books and considerable nostalgia. The Giants too left the Big Apple for the beckoning West Coast. Willie Mays of the Giants had played for the Minneapolis Millers on the way up.
Wally Moon joined the L.A. Dodgers and had to wrinkle his forehead about the stadium there. Think the "Green Monster" in Boston is crazy? In L.A. Moon looked around the Coliseum and saw a right field fence that was 440 feet away, and a left field fence a mere 251 feet away! A 42-foot-high screen dealt with the issue in left, but this was surely odd.
Old friend Stan Musial encouraged Wally to adjust his mechanics to hit to left, which for Wally would be the opposite field. The studious Wally did this successfully. He helped the Dodgers climb from seventh place to the overall championship! Other instrumental players were Duke Snider, Gil Hodges and Don Demeter. Snider and Hodges were fixtures when the team was in Brooklyn.
Didn't Snider end up getting in trouble for some sort of tax avoidance problem? He and Skitch Henderson, I guess. (Skitch was bandleader on the old "Tonight Show," remember?) Wesley Snipes would follow in their footsteps. Why should the government get my money when I can find a better use for it? Even our Jerry Koosman succumbed to such logic.
The name "Wally Moon" invited a logical description for his home runs: "moon shots." Indeed the description took hold. And today there's a book about Moon's life called "Moon Shots." He learned to hit homers over the left field screen at the L.A. Coliseum.
Moon homered in the sixth and last game of the 1959 World Series, won by the Dodgers over the White Sox.
He was on a tear in the 1961 season, batting .328 with 17 home runs and 88 RBIs. He was a career .289 hitter with 142 home runs, not Hall of Fame numbers but enough to have made his mark, and to enlist him as an inspiration for young people to read.
His trademark might have been discipline at the plate, as his walks-to-strikeouts ratio was a spectacular 1.90 (644 to 591). Moon faded as most baseball players do. Post-baseball, he became athletic director and baseball coach at John Brown University. In the late 1970s he was manager and owner of the San Antonio Dodgers minor league team.
He fully retired in 1998 and he's still on God's active roster. He and wife Bettye have five children.
In his 1960 episode of TV's "Wagon Train," there is a credit that reads: "And introducing Wally Moon as Sheriff Bender." I guess his acting career didn't take off, not like Chuck Connors who went from baseball to a full TV and cinematic career, even playing in one of the "Airplane" movies.
It's too bad Moon didn't get more of a chance in entertainment. His face on the old baseball cards reminds me a little of Lee Marvin: a steely-eyed look. (Marvin's role in "The Dirty Dozen" can never be reprised!)
It has also been noted that Wally had a "unibrow," an eyebrow going all the way across! Frankly I wouldn't have noticed that on my own.
Moon was at the apex of his baseball career in October of 1959, when, as a cog with the champion Dodgers, he had six hits including a home run (a "moon shot") and three runs scored.
I'm guessing Mr. Moon is just as proud of his contribution to that elementary school textbook: "Baseball and Books."
Reading must have been important to me, for me to be able to remember that book chapter after all these years. Or, was I just a big baseball fan? Maybe both?
In the final analysis, Moon did not end up as an iconic big leaguer. His prime didn't last long enough.

Source of these reflections
I am writing about Mr. Moon today because I was going through some old papers in the basement, from when I played a baseball simulation game called "APBA." There was a tournament I set up involving teams from the 1964 season, a tournament in which the teams played best-of-five series(es) vs. each other. I even had a double-elimination bracket.
I noticed that in one of the games, Wally hit a grand slam home run in extra innings.
The APBA game used dice. I would nave needed a really good dice roll to get a home run out of Wally. I probably rolled "boxcars": a pair of 6's, which always brought the best offensive result in APBA. Wally batted only .220 in 1964. It was a down year for the Dodgers as they tied with Pittsburgh for sixth place, each with an 80-82 record.
APBA was a fascinating simulation exercise because of the baseball history it brought forth. I use the past tense because games like this have been replaced by computers. APBA was an analog game with cards, game boards and dice. It was a cumbersome game to play, so you had to be patient.
Was it accurate? Games like APBA and Strat-o-matic (the two big rivals) probably exaggerated their claims of accuracy some, but APBA was accurate enough to produce game results that seemed totally credible. That's all I asked.
A glance at an APBA card could tell you everything you needed to know about a particular player in that year. I don't know of any other mechanism that would have done this.
Wally Moon's card for 1964 would not have been impressive. But with the right dice roll, he could still hit a "moon shot." Let's salute Wally Moon, man of the baseball diamond and of literature!