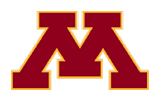 Boomers have to rely on stories from their elders to realize how U of M Gopher football was once truly big-time in Minnesota. You have to think back to a time before the Minnesota Vikings even existed. You have to close your eyes and really adjust your mindset.
No Minnesota Vikings? Before the 1960s, the sports universe was vastly different here. We really were a "Cold Omaha" - the term popularized by fossil-scribe Sid Hartman whenever the time comes for arm-twisting for a new stadium - i.e. "we'll be a cold Omaha if such-and-such team leaves Minnesota."
Shudder. So let's continue building these shrines and if a bridge happens to fall into the river, then we'll need to hike our infrastructure funding a little, but by all means let's keep these big league teams here.
Gophers football was big-time at the old Memorial Stadium. It was razed so U football could move to the Metrodome. Playing indoors would be such a boon for recruiting, it was argued. The best-laid plans. . .
Apparently some very smart people have been trying to "fix" Gopher football for a very long time.
There's a new stadium that now appears to have done nothing to enhance competitiveness. I have suspected all along that the new TCF Bank Stadium could be a hindrance in that prospective recruits are going to realize that playing a fall sport outdoors in Minnesota could be unpleasant.
Does this explain any of the program's current woes? I'm not sure, but with the dismissal of coach Tim Brewster, the program couldn't be any lower.
There is profound embarrassment over the mid-season firing. The Gophers now have a caretaker coach - the knee-jerk move of having a coordinator move up. I guess it's the offensive coordinator but who cares?
I've heard the name but it isn't sticking. It's like when the Vikings were playing "scab" football and Mark Rosen of WCCO TV reported from Winter Park that "the Vikings have a new quarterback, number 5."
That's how I feel about the interim Gophers coach. Brewster walks away with a satchel-full of money. Nice script.
I could call the whole thing "troubled waters" but that would sting even more for the U.
Brewster is history and he had a bland-as-pablum tenure - no scandal even. I have yet to find any really insightful analysis of what his shortcomings were. Poor recruiting? Poor people management? Poor understanding of football strategy?
He may have had limited experience as a head coach but he certainly had a solid football resume.
I think some fundamental truths are working against University of Minnesota football. The Gophers are simply one program in a sea of Division I programs across the U.S. all striving to be big-time, many in locations that can nurture support and resources beyond what the Twin Cities can muster.
We have the potential for late-season unpleasant fall weather. We don't have the pool of outstanding recruits in our high school programs like what is seen in some other regions of the country.
Gone are the days when we could easily enlist African-American athletes from the Deep South who welcomed escape. Those athletes can stay right at home now, where the colleges decided it was better to seek glory and success on the gridiron than to continue suppressing the aspirations of African-Americans.
There are Division I programs all over that are pulling out all stops. The University of Minnesota would like to win too but it just doesn't feel the urgency. There are smart people calling the shots there but the U still failed to beat the guys from Vermilion, South Dakota, this season.
The national sports media had fun praising those "Coyotes" from USD after Vermilion beat us.
Brewster was not fired for losing to Purdue, he was fired for losing to University of South Dakota. It was just as bad two years ago when the Gophers were humiliated at home by North Dakota State. Couldn't that have been the wakeup call instead of waiting two years later?
In fact, the Gophers almost lost to South Dakota State (Brookings) last year. It's too bad they didn't, because the national media would have had great fun with "Jackrabbits."
I have written before that we'd benefit from an in-state Division I football rivalry. Maybe this is in fact the fundamental problem. We need more than the sense of rivalry vs. a neighboring state. Maybe there should be a "Minnesota State" that could challenge the Gophers. I have previously wondered why St. Cloud State couldn't take the steps to do what NDSU is doing. But now, sheesh, St. Cloud State is considering cutting football. I'm aghast.
Until we get that hoped-for rivalry, we'll just have to worry about those Coyotes and Jackrabbits.
Of more immediate concern are those Buckeyes of Ohio State - actually they call it
The
Ohio State University - and this 11th ranked team is coming to stomp on the Gophers Saturday in Minneapolis. I doubt that we will find a silver lining.
But hey, the Vikings play on TV Sunday!
Update: The Gophers interim coach is Jeff Horton. Here's a trick to help remember: "Horton Hears a Who" (Dr. Seuss). Two years from now a trivia question will be "who followed coach Tim Brewster."
Will the new "permanent" coach be like a surgeon who can revive the patient?
Permanent? Reminds me of a Yogi-ism (Berra). Asked once if a particular young shortstop was his shortstop of the future, Berra said "well, right now he is."
An apt way of looking at Gopher football too.
-Brian Williams - morris mn Minnesota -
bwilly73@yahoo.com