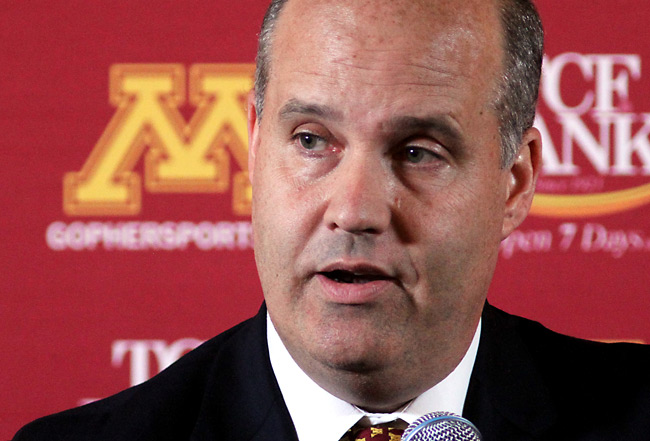 Norwood Teague, U of M
Surely it's a sign of age that I express weariness over another head coaching search at the U of M. But maybe not.
Maybe my sigh, in a figurative sense, is shared by others. Maybe I'm sick of what George Will calls "coach centrism." Will was talking about big-time college football. He talked about how college sports evolved from a more laid-back time. It is certainly seen in basketball too even though the numbers aren't the same.
A football coach seems to have a virtual army of players to deploy. They cover all sorts of refined specialties. The rules structure of football has allowed the game to progress like this, to where you need a savvy "chessmaster" kind of head coach. Maybe a better term would be "general" (as in army).
Football has historically seemed like war. But the public appears ready to start putting the brakes to that. The public has awakened to the barbarism.
Basketball doesn't have that problem. Basketball doesn't involve an "army" of athletes on each side. But the ones who do go out there and play are in a fishbowl. And, the coach is no less a chessmaster than in football. All our hopes and dreams get pinned on the head coach.
Division I college athletics has developed into a many-headed hydra that has to respond to demands and pressures. Fans get an absolute "sugar high" from the naming of a new head coach.
Rarely does a new head coach just sweep everyone off their feet and win a national title. It sure doesn't happen at our U of M.
We seem to want such heights to be reached. We're hearing all the usual catch phrases now. In the aftermath of the Tubby Smith firing, we hear these lofty goals expressed by program spokesmen. We want to win of course but that isn't enough.
The pronouncements at a time like this are "shooting for the moon." We want players of high character who are fine scholars and of course will graduate, oh but we want them to win the Big 10 title. We have been on this carousel before.
Athletic Director Norwood Teague is saying the right things. He talked about deficiencies in Smith's "body of work." I would suggest "body of work" has become one of those trendy terms or phrases, like "it is what it is," that will show up on end-of-the-year lists of overused, cliche-like terms or phrases. Leave it to an AD to utter something like this.
What on earth does big-time college athletics have to do with academics or education anymore? The games are pure entertainment. The infusion of money is corroding.
The University of Minnesota wastes substantial money as it thrashes around trying to "win." And winning accomplishes what? Allows us to thump our chests as Minnesotans? Really?
Again, maybe I'm just getting old. It seems much ado about way too little.
And why have we allowed the head coaches to get on such a pedestal? Why are they like mini-generals in an arena with hotly felt pressure to win, with firing or removal the consequence of losing? We then look for a new messiah. That's what Mr. Teague is doing now.
For the amount of money of U of M wastes, there doesn't seem to be much of a return right now.
Every few months the Minneapolis newspaper tries to do an expose on waste or largesse in the U of M. Athletics is a frequent culprit, like with the $800,000 paid to get out of two football games which the U was afraid it might lose (to North Carolina).
We hear about largesse and then the press tries pinning down the U's Regents for comment. The Regents might just as well stutter like Mel Tillis. They always admit they "should have known more." They say "we'll try to do better." And then it seems the status quo just goes on.
If you think I'm being radical sharing such opinions, just check Arne Carlson's blog. Carlson is a much-respected former Minnesota governor with a "mainstream" reputation. He is known to love the U. And he has some serious reservations about how resources are being used there now.
I'm not sure how much the public cares. The public seems like a big hibernating bear, having to be kicked to wake up to the ridiculousness of the Vikings stadium package. It's like pulling teeth. Some scribes with the St. Paul newspaper are issuing cries on that. Leave it to them. Oh, and me too (LOL).
St. Paul is used to getting the short end of the stick on a lot of things. Those writers are in a position to truly see how a certain power network is shafting the citizens of Minnesota. Ruben Rosario is one such writer. So is the crafty old scribe name of Joe "Sooch" Soucheray.
I remember Soucheray from when he was a young up-and-comer. He even looked a little like a hippie once. It's nice to see him get off the subject of property taxes for a change.
I'll be surprised if the new Vikings stadium ends up as anything but a white elephant. Post mortems will be written. If something on this scale was really necessary, couldn't it be shared by more than one team?
As for our U of M, we are back on that familiar carousel where soon there will be a press conference announcing the new men's hoops coach. Oh, how predictable that will be. This will be an "outstanding individual," squeaky clean and with awesome intelligence to be sure. But we hear that every time there's a new hiring.
Fact is, the Big 10 is filled with coaches who have roughly the same credentials and intelligence. The programs have roughly the same resources. They all grovel for money from every conceivable source. And here's the deal: They can't all win. Do you realize that? Yes, each game played has to have one winner and one loser. It's totally a 50/50 deal.
"Success" means having to overpower your opponents. You need to try to scrounge a few more resources than your rivals. And even then you'll need some luck. It is not a rational process to find a "winner." It's just a carousel.
And it never stops spinning.