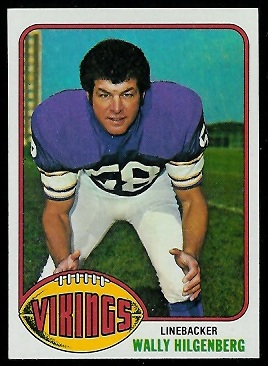 The story of Wally Hilgenberg as a Minnesota Viking ended up wholly sad.
It's not because of the four Super Bowls the Vikings lost. Those are immaterial in the scheme of things.
Hilgenberg left this life with health issues that were almost certainly the result of football's physical toll. Such sadness.
Hilgenberg, who was probably never aware of the consequences of head trauma, or not adequately attentive to it, gave us a vignette as a player that is endearing. It didn't have to do with any hits he dealt out (or took) as a football player. It had to do with dealing with the elements - a huge factor back in the days when the Vikings played at Metropolitan Stadium.
Indeed, the '60s and '70s were a wholly distinct era in Minnesota pro football history. Playing outdoors was quite the different matter from playing in the Metrodome. We easily get nostalgic. Which is easy to feel, as long as we're not standing along one of those bleacher rows trying desperately to stay warm. As long as our toes aren't feeling brittle.
We can smile now about the lengths to which linebacker Hilgenberg, a card-carrying "purple people" defender, sought to fight off the effects of cold. The date was December 4, 1977. I was a junior in college. The Vikings were matched against San Francisco. The thermometer said 15 degrees.
Cold winds blew light snow over our beloved old "Met" (Bloomington). Our coach in those days: Bud Grant, a pillar of a man, stoic and with solid basic values. Part of his reputation was his belief we ought to face the elements with a minimum of special aids. So, no electronic heaters.
Grant was quoted after a December game in 1972: "You can't call this cold. We played games in Winnipeg when it was 20 below." That has to be an exaggeration, the way parents (according to popular lore) used to exaggerate about all the adversity walking to and from school when kids.
But surely Winnipeg gets cold. As does the Bloomington prairie, where Metropolitan Stadium sat like a castle for about 20 years. Moving indoors to the Dome was one of the biggest transformations you could imagine. We went from incredible vagaries in weather to none at all. We could host the Super Bowl in winter.
Hilgenberg skirted Grant's rules on December 4, 1977, when he "smuggled" to his bench spot a 15-pound rock that he had heated in a sauna. He covered the rock with a towel to protect it against the wind. Joe Soucheray observed: "That was as sophisticated as the Vikings ever got when it came to sideline heating."
The Vikings beat the 49ers 28-27.
Coach Grant gave his "Winnipeg" quote after the game that was probably the coldest in the Met's history. I was a senior in high school at Morris High when Hilgenberg and his mates hosted the Chicago Bears on December 3, 1972. The temperature at kickoff time was two degrees below zero. A wind blew out of the north at 11 MPH. The wind chill factor (something I hate): -26.
Oh, we loved the Vikings in those days, so nearly 50,000 hardy fans turned out to watch. The footing was solid. Clear conditions offset a wee bit of the misery. The Vikings won 23-10 with just one offensive touchdown, scored by John Henderson.
The Bears had just two completed passes against Minnesota's "purple people." The Bears had a net gain of one yard via passing. Their quarterback was Bobby Douglass - remember him? He was quite the run-oriented quarterback (big more than fast), rather ungainly when trying to put the ball in the air.
You can imagine football fans all across the U.S. getting the impression that Minnesota was some sort of miserable extension of the Yukon. That was indeed a problem of the old Met - a public relations problem, not to be sneezed at.
A hint of irritation would emanate from broadcasters' voices when they announced they were coming here soon to broadcast a game. I remember a good example with Johnny Unitas, then a color analyst.
Hub Meeds was the Vikings mascot then and he enhanced our remote image with his primitive Vikings garb. I always laughed when John Madden and Pat Summerall acknowledged the mascot's presence along the sidelines. They always did so with hints that maybe the shaggy-appearing soul had issues with hygiene and odor.
"When was the last time he had a bath?" one would ask. The other responded: "No one's ever gotten close enough to find out."
Madden and Summerall had chemistry like Carson and McMahon, Laurel and Hardy or Martin and Lewis. The dry, laid-back and serious Summerall would set up Madden for his wry observations and humor.
The Vikings game on December 3, 1961 (the Vikes' first year) had drizzle and fog. The Vikings beat Los Angeles 42-21.
In October of 1965, a game was re-scheduled to Saturday night to accommodate the Minnesota Twins who were playing in the World Series. So the Vikings played the New York Giants on Saturday night, Oct. 9, 1965, amidst chilly, damp and foggy conditions. The Vikings won 40-14.
The vagaries of weather were displayed for an exhibition game on August 22, 1976, when fans dealt with hazy and muggy conditions and a temperature of 88 degrees. This was receiver Sammy White's breakout game. He and Fran Tarkenton worked together like a well-oiled machine as Minnesota won 23-17 over Cincinnati.
White was a second round draft choice out of Grambling. Vikings fans came to love him, but I felt it was rather sad he couldn't handle himself better in front of a camera or doing an interview. I think players get special training on that today.
I could tell stories about games with snow too. It was quite the adventure following big-time sports at the Met. The atmosphere hasn't been duplicated by any other sports venue since. It was called "Metropolitan" but the atmosphere was very much detached and almost pastoral. It was surrounded by a vast parking lot. Today people would be locating their cars by pushing a button on their "fobs" all over the place.
You had to be sharp mentally back then, about a lot of things in fact, 'cause we didn't have all the tech assets. Those were "analog days." Somehow we got by.
The Vikings lost four Super Bowls in that era. If only we could remember the league championship games as well as the Super Bowls. But that's not how us Americans are. We salivate over "number one" and shrug about lesser steps in the ladder, don't we?
Older and wiser, and now we care much more about the health of all the players who don the helmets in the questionable gladiatorial sport. Wally Hilgenberg, RIP.