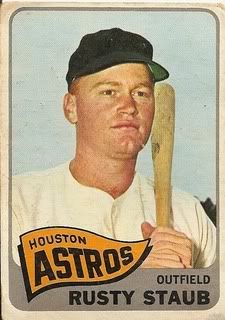 Baseball fans my age grew up with Rusty Staub, "Le Grand Orange." That moniker was attached when he went to Montreal to star with the first-year Expos. This was the second expansion team for which he was an inaugural "darling." He was a fuzzy-cheeked "bonus baby" when starting out with the Houston "Colt .45s." The Colt .45s? Yes, that was the name that launched the franchise destined to become the Astros.
Staub should be a Hall of Famer considering his distinctions. He had over 500 hits with four different teams. He is one of only three players to homer both as a teen and at over-40. I recently wrote a reflective post about Staub for my companion website, "Morris of Course." Here's the link:
http://morrisofcourse.blogspot.com/2015/11/500-hits-w-four-different-teams-great.html
I have written poetry to honor the career of "Le Grand Orange." Actually it's song lyrics with the verse portion to be performed narration-style, no melody. A man would perform the verse and a female voice would sing the chorus. So, the song would have the exact same structure as the 1970s hit "Convoy" (C.W. McCall).
I don't know if I'll have the song recorded. I develop song or poetry ideas all the time, and sometimes I'll have a song recorded.
I invite you to read the words I penned about Rusty Staub, in "The Ballad of Rusty Staub."
Rusty Staub just did the job
With that wooden tool
Baseball was his stock in trade
With his bat he ruled
Houston gave him his first chance
When that team was young
Not yet in the Astrodome
Far below top-rung
Rusty had to pay some dues
But his talent wowed
All he needed was some time
Then his bat grew loud
Astros weren't his destiny
Just a stepping stone
He would play for four more teams
Always in the zone
He arrived in Montreal
As a new day dawned
All the fans would christen him
As "Le Grand Orange"
CHORUS:
Rusty played the game he loved
With his bat he rose above
Even in the Great White North
Rusty sold his favorite sport
Learning French to mix with fans
Just for friendship's sake
Would his Expo days grow long
Or would he pull up stakes?
Baseball has a heartless air
It can make fans sob
Expos got three decent guys
In exchange for Staub
Now it's on to NYC
Once again he fit
Hitting frozen ropes once more
Showing fans his gift
Then the Motor City called
Tigers in the wings
With that A.L. team he starred
Making his bat sing
Two hits in the All-Star Game
Upped his stock once more
Now he's in the DH role
Sizzling like before
(repeat chorus)
Texas was a short detour
Then he went on back
To the Mets where he displayed
Pop in that old bat
He would pinch-hit like a god
What a specialty
Stepping from that dugout strong
Slugging for his team
He had homered as a teen
And at 40-plus
We could count on his big frame
Never gaining rust
He departed from the game
In nineteen eighty-five
Stats would show his bat was gold
All along that ride
Maybe he could make the Hall
He had quite the brand
Even if he came up short
Fans would love that man
(repeat chorus)
He was in the boxscore
All throughout the years
Booomers came to see his name
Standing out so clear
Even in that agate type
We could feel that pulse
Coming from that potent bat
Rusty wielded much
Astros, Mets or Tigers
And in Montreal
Rusty showed his prowess
There to see for all
No he was no Mantle
With his pedigree
He was just a steady force
Making history
(repeat chorus)
(repeat chorus - modulate)