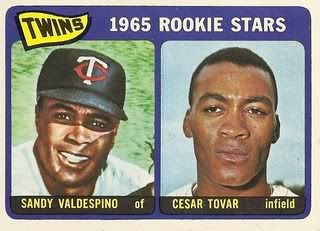 Rookies Valdespino and Tovar, '65
Every major league baseball team has a player like this in its past: obscure with his accomplishments but still endearing in a permanent way. Our Twins' 1965 season was like a fairy tale. Embedded in our memories is Sandy Valdespino. He had only one year of decent offensive production in his career. He chose our magical 1965 ride for that burst. He only batted .261 but was a valuable hand. He in fact was considered our top rookie in a year that had a nice slate of Twins rookies.
Valdespino was part of our significant "Cuban connection." Jim Kaat once joked that the "T/C" on Twins caps stood for "Twenty Cubans." We should be relieved these guys at least were able to get to the U.S. away from Fidel Castro.
Jim Merritt and Dave Boswell were two of our promising rookies in '65. They were the best you could find in terms of pitching prospects, but both unfortunately threw their arms out when they were young. This happened to Jim Merritt after he was traded to Cincinnati. I thought he looked like Kent McCord of the "Adam-12" TV series (about cops on the beat). When Mad Magazine satirized the TV series, it had the duo of McCord and Martin Milner driving right past serious crimes on their way to petty stuff like someone double-parked. Milner had been in the "Route 66" series.
Frank Quilici was a Twins rookie in 1965. He would go on to be a Twins manager in that time when we were struggling, pre-Dome. Andy Kosco was a rookie, a prime example, like Rick Renick, of a guy who looked promising in the minors but couldn't quite master the majors. Joe Nossek was a rookie in '65. I remember Joe best for getting the nod to play on a platoon basis with Jimmie Hall in the World Series, odd since Hall had been a quite productive everyday player - a fan favorite too. Who was Joe Nossek? Appreciating Joe Nossek probably required a Bill James outlook.
Valdespino was known to have the powerful shoulders of a boxer. In '64 he was the International League batting champion. He was 26 years old for 1965. His real first name was Hilario. Teammates voted Sandy the team's top rookie in '65. The Twins won the pennant in '65 and lost the World Series in seven games to the Dodgers.
If I go to heaven and God allows me to experience an alternate reality from my time on Earth, I would like to experience our Twins winning Game 7 over the Dodgers and Sandy Koufax.
I have written about Sandy Valdespino before. I previously shared some poetry/lyrics about him. Today I have revised poetry/lyrics to share. Why revised? The original version bothered me a little. Reflecting upon that, I realized I was being too much of a journalist and less an artist when writing the first version. I insisted on shoe-horning in too much minutiae from his life and career, to the detriment of the art I was trying to create.
"Detriment" is perhaps too harsh a word. My first version was acceptable as stand-alone poetry. As a song it seemed a little less than organic. My new version was written with the proper artistic criteria in mind. Will I have it recorded? I might. Here it is:
"Ballad of Sandy Valdespino"
by Brian Williams

We remember Sandy Valdespino
Even though he was no superstar
With his Twins cap on he was more than just a pawn
And with his name we could go far
As a boy he fell in love with baseball
It was king in Cuba, that's for sure
He could not stay there with the commies on a tear
So here he came like on a tour
He would ride those buses in the minors
Staying firm with what his goal would be
In the USA there is nothing in your way
So Sandy saw his destiny
It was way up north in Minnesota
In the state where Humphrey was the man
And the day would come when Ventura was the gov
Could Sandy captivate those fans?
He was off and running in his first game
With three hits he won the populace
It was '65 and the Twins were on a ride
To first place - they could hardly miss

He was part of joyous pennant fever
In the state with lakes ubiquitous
Now he made those rounds getting known to all the throngs
So far from when he rode that bus

In October with the festive bunting
Sandy took his lumber to the plate
In the top showdown he would carve out some renown
A hit off Koufax made him great

It was two years later on a fine day
With the Twins and Indians on the field
He was there in left with an eye to make a theft
His glove was blessed or so it seemed

Larry Brown was trouble for the Indians
With a swing, he gave the Twins a fright
There's a ball hit high, getting lost up in the sky
But one man had it in his sights

Those who saw it never have forgotten
How it seemed he had wings on his feet
He went up the fence like a demon all hell-bent
And with that ball he smiled sweet

He would never be a Hall of Famer
Just a blip on baseball's radar screen
Such is life for most, toiling for our heav-nly host
We're famous only in a dream

ENDING:
We remember Sandy Valdespino. . .
We remember Sandy Valdespino. . .
(fade)