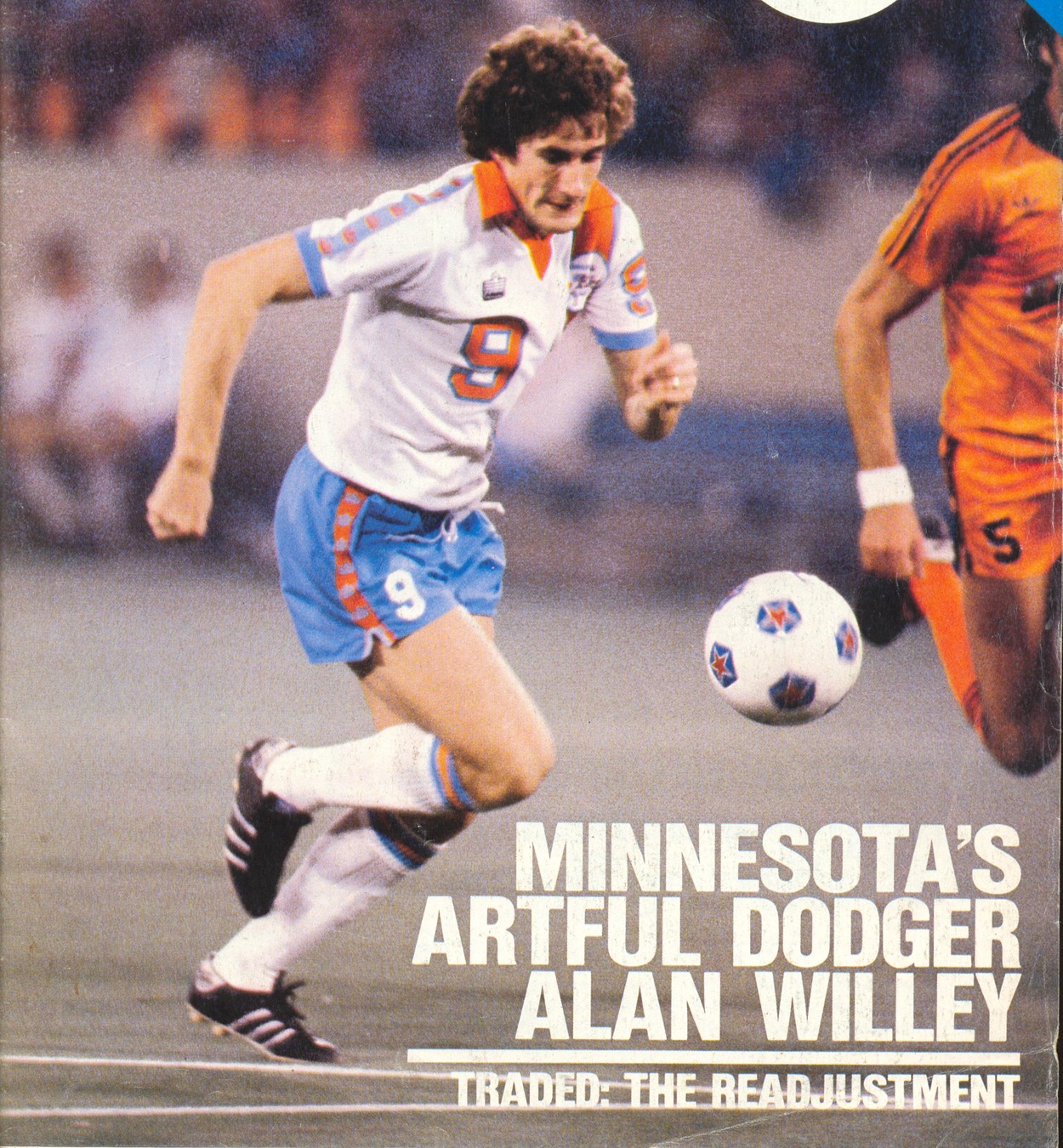 All this World Cup Soccer buzz has gotten us thinking again: is soccer firmly implanting itself in our consciousness now? It would be nice if we could resoundingly answer "yes." It might mean that a big wave of young men would take a fresh and enthusiastic look at a sport other than football. No longer would football, a brutal sport, be considered some sort of rite of passage - a badge of machismo.
Football has been getting dragged, rather grudgingly to a degree, into the 21st Century. No longer is a dissing of gay people considered a prerequisite attitude for donning of the pads. Football is having to watch its back. The insurance industry will see to that, and lawyers. Meanwhile we have the sport embraced all over the world, soccer, lurking as the alternative.
Is the World Cup a turning point? It remains to be seen. Soccer has always gotten a periodic bump in popularity. The problem is to sustain it.
Time has separated us from the Minnesota Kicks chapter of Minnesota history. If you're young you might need a primer. You might need a primer about Metropolitan Stadium. "The Met" was that grand castle-like structure on the Bloomington MN prairie. It was built as a lure for major league baseball. But, we had to wait five years for the majors to come here.
Calvin Griffith brought his Washington Senators. Minnesota immediately fell in love with the team, re-named the Twins. My generation of the boomers got on board with the enthusiasm. We were transfixed as such iconic early players as Zoilo Versalles, Earl Battey and Camilo Pascual plied their talents.
The boomers could be a fickle crowd, though. By the time the 1970s dawned, we weren't quite so enthused about baseball. We were ecstatic about the purple Vikings. Perhaps we had gotten spoiled by the Twins' success of the 1960s. Our attention span always was limited. We seemed to be itching for something new. And, we certainly got it.
The year was 1976. We were bathing in the disco '70s. "Happy Days" gave us that ridiculous "jumping the shark" episode that grew into a popular expression. When a particular entertainment commodity got stale and started doing anything to jump-start its popularity, it had "jumped the shark."
Boomers learned of a totally new entertainment commodity that was going to sprout at the Met.
We had always known about soccer. We considered it a boring unit in phy. ed. We were supposed to jog around until getting close to the ball and then try to kick it. We never developed a refined sense of the sport. We might groan when informed by the phy. ed. teacher that we were going to play soccer. We much preferred "scatterball." But we developed a sense of what soccer was.
Through the media we learned of a certain mania that prevailed about soccer over much of the world. We were a little puzzled. Scoring seemed so limited in so many of the games. Players seemed to run about in a random fashion. Soccer was a curiosity.
Then in 1976, with "Fonzie" holding forth in our culture, we learned of a serious big league soccer venture that would make its home in Minnesota and out at our "Met." Hmmm. Could it captivate us? As I said, boomers had begun yawning about the Twins, a trend I didn't necessarily understand or support. My compatriots of that restless generation were ready for something fresh.
So along came the Minnesota Kicks! All hail the Kicks. Minnesotans as a whole seemed ready for something fresh. Casinos hadn't sprouted yet. Without gambling, institutions like the Carlton Celebrity Room just couldn't make it, try as it might. Minnesotans cast about, and led by its teeming boomer population, discovered soccer and the Kicks. It was an amazing episode in Minnesota history. We ought to be reminded about how the Kicks drew such huge fan numbers to the Bloomington prairie.
The Kicks came here from Denver where they were known as the Dynamos. The Kicks were born amidst a truly big league promotional and marketing campaign. The team got started with two road games, both losses. So, was the whole venture going to fade? It was Mother's Day, Sunday, May 9, when our Kicks strode onto the Met Stadium turf to discover 20,000 fans, quite affectionate in their disposition. We were neophyte followers of the sport. It didn't matter.
Food company executives were the team's investors. The temperature was a most pleasing 83 degrees for May 9. Only a few more than 17,000 tickets were even printed! Team officials were hopeful for a crowd of about 12,000. The game was slated to start at 3 p.m. About 17,000 fans already had their fannies in the seats. But outside, lines at the ticket booths were growing! Ah, the vagaries of the entertainment industry.
Jack Crocker, chairman of the Kicks, knew all about supermarket courtesy. He was the head of Super Valu. He did just what Paul Martin, our local Super Valu operator, would do. Our local Super Valu has always been "home of the people lovers." Crocker enlisted help to take rolls of tickets through the lines.
This action wasn't sufficient to diminish the rush. Team execs had to be pinching themselves. Crocker threw his arms up, in effect, but most delightfully, and decreed that anyone still waiting should be admitted for free. Nearly 3,000 fan hopefuls were given a pass for paying and they ended up out in left field, where no reserved tickets had been printed. This gesture was a public relations bonanza, endearing the Kicks to virtually the whole state's population.
The Met Stadium playing field was now a "pitch." The English-born players became known to us as "lads" and "chaps." We learned to describe a 1-0 score as "ace-nil." In that debut game on Mother's Day of '76, the Kicks defeated the San Jose Earthquakes 4-1. Alan Willey was a most popular "lad" as he scored two goals.
Remember the coach's name? It was Freddie Goodwin.
In 1977 the Kicks would play their opener at home. The date was May 8, an early date for trying to count on ideal weather, but again God seemed to bless the affair. The temperature was 76 degrees. Fair and mild conditions prevailed for the whopping 35,966 fans who attended. Willey had taken on the nickname "Artful Dodger." He scored all three goals in a most pleasing 3-0 win over Team Hawaii.
Fast-forward to 1978, the year I graduated from college: Now the Kicks took the field, or "pitch," before 36,057 admiring fans. The temperature was 60 degrees and skies were overcast. The Kicks prevailed 2-1 over Dallas.
In 1979 those vagaries of Minnesota weather came forth. It was a rainy and windy Sunday with the thermometer showing 42 degrees at the 3 p.m. start time. Still, 24,131 enthusiastic souls showed up to watch and to enjoy the Kicks' 4-1 win over Atlanta.
The vagaries of our weather turned up the heat for a July of 1977 game, a game played on a day with the mercury hitting a record-matching 100 degrees! We didn't talk of global climate change back then. The Kicks and a Swedish first division club named Hammarby took the field in the evening with the temperature having "retreated" to 95. This was a mere exhibition match. It didn't seem to matter much for Kicks fans. Joe Soucheray described the fan turnout of 24,032 as "scantily dressed even for a Kicks crowd." So, you can just imagine.
In retrospect, Kicks soccer has become known as sort of a faddish mecca-type gathering for the young boomers. Although I never attended a game, I can easily imagine all the distractions, foolishness and even debauchery that was engaged in.
Maybe I should say "especially" debauchery. I worked at a summer resort in 1973 where I observed behavior some of which I wouldn't even want to describe here. If your parents are boomers, you will probably find them tight-lipped or maybe even in denial about this. Today they believe in a strict work ethic, a structured and responsible daily routine and discipline. They might even be tea partiers politically: "To hell with everyone else, I'm just going to get mine."
Believe me, in the 1970s these creatures were quite different. We were hedonistic but at the same time altruistic with our personal political and philosophical attitudes. Does the aging process itself change us?
You would think the aging boomers of today would be gushing for the more lenient stance toward marijuana use sweeping the nation. However, I learn that we are not disposed this way, we are in fact advising caution, even though we once purchased Cheech and Chong LPs. You'd show up for fall classes in college and be assigned to a roommate who had that little bag of marijuana tucked away somewhere.
We reveled in the lowered drinking age. We partied and listened to deafeningly loud rock music, played on our "stereos." A good sound system was expensive. Vinyl records were expensive. Today you might get a souvenir CD as a freebie with a box of breakfast cereal. Wow!
The boomers with all their fun-seeking vices showed up en masse for Minnesota Kicks games. People joked about how all the "extracurricular" stuff was the real attraction for the youth, not so much the soccer. That was true but only to an extent. Minnesotans got a real taste of serious soccer thanks to the Kicks of the disco '70s. It was a quite extended run.
But it was destined not to last. These boomlets of soccer popularity seem always to fade, only to be resurrected later. The sport of football has to be whistling past the graveyard about this. Sometime that soccer popularity is going to reside permanently in our consciousness.
Think back to August 25 of 1976, when fans seemed to almost beat down doors to take in a soccer game at the Met. The Kicks' largest crowd ever turned out that night. The Kicks took on San Jose and won 3-1 in the Pacific Conference championship game. The official fan turnout was 49,572. Team officials were convinced that the extent of humanity was actually in the vicinity of 50,000-plus. They were assembled at every available vantage point - on the grassy knoll between the third base bleachers and the left field pavilion. They were under the scoreboard. They "stood like sentinels around the upper perimeters of the stadium," Soucheray wrote. It was a typically steamy summer night, 86 degrees, at a time when people were of a mood to cling to summer with school starting not far off.
I suppose it was State Fair time. The football goalposts were up for a Vikings exhibition. Fans celebrated by taking down those posts - a fact I hate reporting in light of Morris history (the death of a student here in such an episode). The sod got ripped up in souvenir-size chunks. "This must be the sports story of the year," Kicks exec Jim Ruben said. League Commissioner Phil Woosnam went a step further with his comment: "This is the sports story of the century."
What incredible memories. But they seem sort of lost now. Wouldn't it be wonderful if we could resurrect all that? Will the World Cup be a catalyst for that? It could be, but no signs exist of this now.
Let's hope. Let's remember those glorious orange Minnesota Kicks T-shirts that became like a uniform for the boomer generation of the '70s. The memories are far more warm than for "Happy Days" and that shark-jumping. BTW I watched that episode at my St. Cloud apartment when it was first aired.
"Happy Days" could be "appointment TV" for us youth. Same with "Kung Fu" and "Mash." We had the "monoculture" in those days. We were way pre-Internet and pre-digital. Somehow we got by.
- Brian Williams - morris mn minnesota -
bwilly73@yahoo.com