Aaron Schock
Maybe Aaron Schock was too good to be true. And, when something seems too good to be true, it might well be. Mr. Schock was a national-level politician who seemed downright fuzzy-cheeked with his young age. He seemed refreshing.
On the other side of the coin, maybe a little more wisdom is required, the wisdom that comes with a greater body of life experience. Strom Thurmond was too old. Aaron Schock was too young.
I haven't heard much talk about how Aaron has a Morris MN background. Has the local corporate media reported on this? I haven't seen anything. The family was well-known and respected here. I especially remember Aaron's sister Lisa who was a premier student-athlete. She had height as an attribute. I remember doing an article about her when she went out of state to play college sports.
I have only a faint recollection of Aaron. He was in the fourth grade when his family moved to Peoria IL. He was the youngest of four children. Father Dr. Richard Schock was quite esteemed as a medical practitioner and school board member. The family lived on a rural farm site where the children were given the responsibility of tending a three-acre patch of strawberries and selling the fruit.
Mother Jan was a homemaker with a sweet personality. I think her maiden name was Joos because I had a friend who referred to her as "that Joos girl." There are women around Morris who I still think of with their maiden name. Actually this practice whereby women change their last name upon marriage, while men don't, reeks of sexism. It is far easier to Google an old male friend than an old female acquaintance.
Anyway, to continue our story of the Schocks, they got dragged into the world of celebrity. I'm not sure I envy anyone in this position. Aaron built a resume that was absolutely stunning for someone of his young age. Chris Matthews of MSNBC seemed amazed.
Many of us who felt concerned about too many grizzled old politicians, politicians whose mental capacity almost seemed at issue, found Aaron to be most welcome. If only he had panned out. It's sad to see the unraveling of this once bright career.
Aaron has had to resign from the U.S. Congress. He was the first member of the Congress born in the 1980s. Prior to entering Congress, young Aaron served two terms in the Illinois House of Representatives.
Over a period of weeks, Aaron has been besieged by questions about his use of taxpayer dollars and campaign cash. If you have heard a reference to "Downton Abbey" in the news recently, it's because of Aaron. A photo of a $40,000 "Downton Abbey" redo of his Capitol Hill office led to an ethics charge by an independent group.
Once the first nugget of scandal was revealed, you know how it goes. The individual in question gets under a microscope.
Other revelations followed, like how Aaron billed taxpayers $1,200 for a charter flight to a Bears game at Soldier Field. Oh, he repaid once word got out. But there was another $14,000 in private flights last fall on top of $40,000 worth of travel on planes owned by campaign donors. He recently had to defend a trip to New York in September, connected to a visit by the prime minister of India. Schock brought along ten staffers, all paid for by tax funds.
He has faced questions about a shell company connected to him. Political donors built, sold and financed a home Schock owned in suburban Peoria, and were involved in the sale of a Peoria apartment complex in which he invests.
All in all, there's a background emerging now in which Aaron's priorities are going to have to change quickly. No longer in the firmament of young and rising, he's now in the circle of those who need a gaggle of top-notch lawyers. It's likely Federal investigators are taking a look at some of Schock's reported dealings. He has sought to reimburse funds. Will that be enough? I rather doubt it. "The Feds" can be like snarling dogs when they're at your doorstep.
Seeking to reimburse funds may look good, but on the other hand, this can be seen as tantamount to a confession.
The Schock family members haven't been immune from press attention. Father Richard, who I always found to be quite agreeable, got "ambushed." When CBS 2's Brad Edwards and another reporter approached the good doctor to discuss his son's situation, he at first told them to leave his house in Peoria. But then, he completely opened up. He went to bat for his son - quite understandable and endearing.
His choice of words wasn't always the best. Like when he said his son "wears stylish clothing, and yet he's not gay. And, he's not married and he's not running around with women."
Dr. Schock needs a little coaching on how to behave and talk like a semi-public figure. Of course, media people love that kind of candor, like when Roger Maris (according to the movie) said "maybe I'm just some redneck from Fargo."
Dr. Schock also said some more benign things re. his son's travails, like "he's had a good run, he's done a lot of good, he has helped a lot of people. Everybody I talk to still supports him, and prays for him, and hopes he comes through this. He's going through a very tough time right now, because in his heart, he's always wanted to do what was right and what was good, and got a little careless."
The doctor also blamed the rancor in politics today, the "viciousness."
Maybe there's a reason why well-known politicians tend to be up in years. They have slowly, methodically and patiently worked up the ladder, realizing in a very sober way the august nature of their responsibility, and making sure all the i's are dotted and t's crossed in their public functions. It's called wisdom. Aaron hasn't gained enough of if. Good luck to him and his family. I suspect he longs for those placid, innocent days in rural Morris.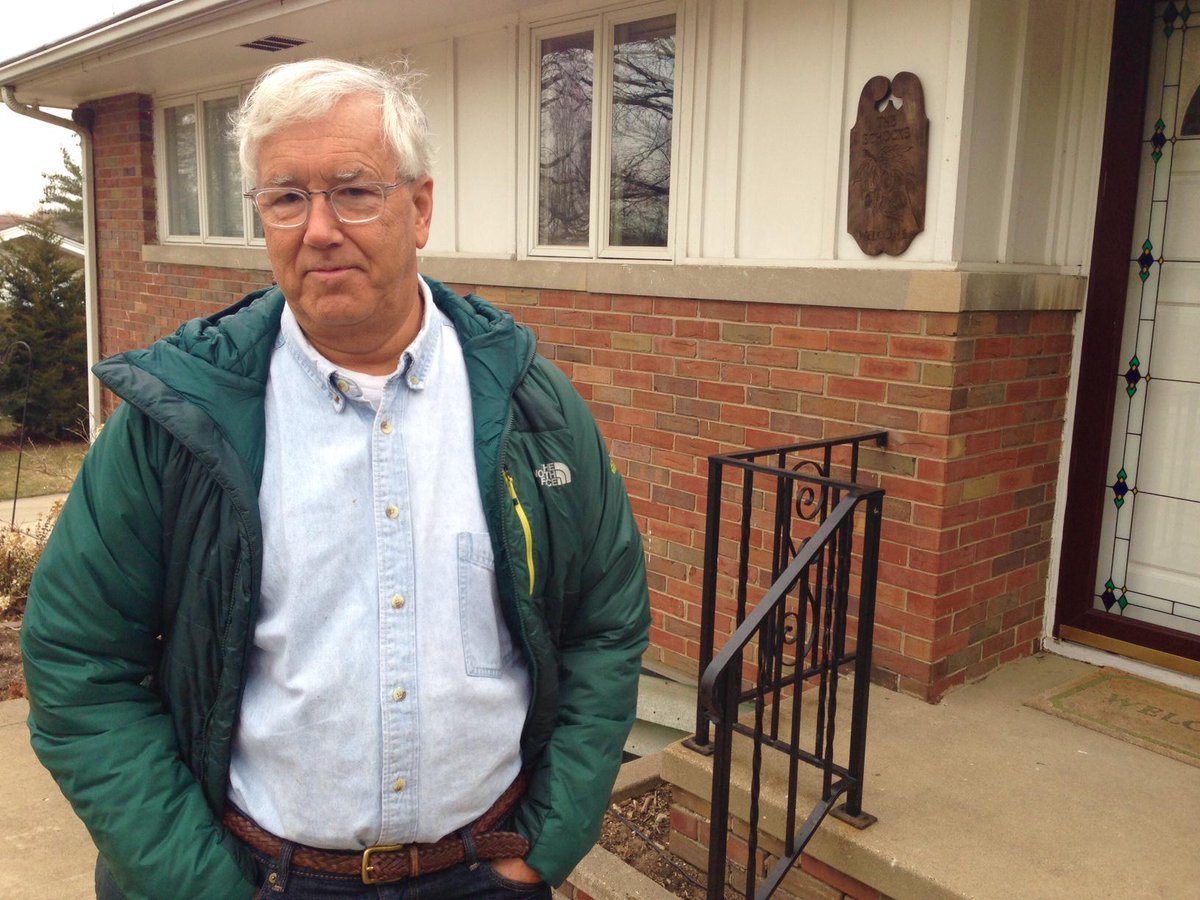 Dr. Richard Schock (image from Twitter)
- Brian Williams - morris mn minnesota -
bwilly73@yahoo.com