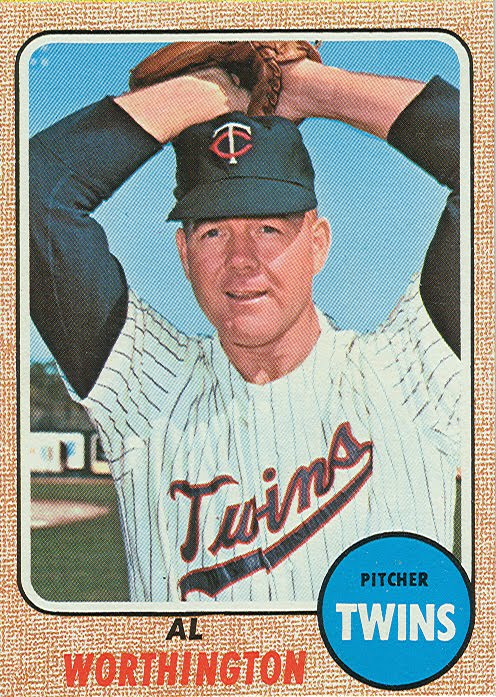 Al Worthington appeared in relief in the first Twins game I ever attended. Though he was commonly called "Al," I recall Twins P.A. announcer Bob Casey being more formal with "Allan." Casey's pronunciation projected a triumphal air. We could all feel assured we had a most capable reliever taking charge. And that's exactly what Worthington did in the majority of his appearances. He was the very definition of a relief pitcher.
We got introduced to him in June of 1964. It was the year before we won the pennant. Even though the '64 and '65 Minnesota Twins teams seemed nearly identical - their personnel and stats seemed similar - they fared far differently from each other. The '64 team barely made a whimper, tying for sixth in the American League, but in '65 we ruled the roost. Sam Mele employed some "small ball" principles to get more out of his team.
Worthington made his Twins debut when a fireman was really needed. It was on June 28, 1964, when Worthington tore off his warm-up jacket, got on the pitching rubber and bore down to face the Chicago White Sox. He relieved starter Dick Stigman. The score was tied. The bases were loaded with one out in the sixth. Worthington indeed put out the fire. He stayed in the game and tossed three more scoreless innings. He got the win as he was backed by some of that trademark Twins power of that era: home runs by Zoilo Versalles, Harmon Killebrew and Bob Allison, all off Chicago reliever Eddie Fisher (a knuckleballer).

Like greeting the cavalry
Maybe there was something in the Minnesota air that invigorated Worthington. (The man was from Alabama.) He pitched 72 innings in 1964 and fashioned a 1.37 ERA. He led the team with 14 saves.
"Allan" Worthington was as inspiring as seeing the cavalry arrive. Thus he carved out a significant place with our 1965 pennant-winning team.
He had a 10-7 won-lost mark in '65 with 21 saves and a 2.13 ERA in 80.1 innings. We stretched the World Series to seven games but came up shy vs. the Los Angeles Dodgers with other-worldly pitcher Sandy Koufax.
Worthington pitched four scoreless innings in the World Series, in two appearances. I was ten years old in 1965. The cast of Twins from that era will never be replaced in my memories.
Worthington was in his prime from 1964 through '68 - a quite extended run for a reliever in those days. Many pitchers then would make their mark and then "flame out" before their time. That puzzled me. Those were the days before pitch counts and setup men - those concepts at least hadn't reached the fans' parlance. We did hear the term "middle reliever." Worthington became a middle reliever for his final year with the Twins in '69. He stepped aside from the dramatic ninth inning role, where Ron Perranoski had been acquired from the Dodgers to work. At age 40, Worthington was no longer "the cavalry" but he was on board for our West Division-winning campaign of 1969. It was the first season of East/West divisions.
Worthington ended his career after 1969. He had a career ERA of 2.62 plus 37 wins and 88 saves in 473.1 innings with the Twins. For five years he thrilled us as that reliable closer. He seemed a very stable and mature individual with none of the quirks that sometimes characterize these stars. If Sam Mele and Bud Grant were like father figures to us boomer boys of the Upper Midwest, Worthington was like a favorite uncle, an inspiring uncle.
Al's 18 saves in 1968 topped the A.L. in that "year of the pitcher." He was in the A.L.'s top ten in both saves and games finished from '64 through '68. Perranoski picked up that mantle of relief ace. Oh but there were other fine relievers for us, both then and in the chapters since. It's a nice strong suit to have. I remember Stan Williams and Bob Miller excelling at the same time as Perranoski. Mike Marshall came on the scene. We welcomed Jeff Reardon, Rick Aguilera, Eddie Guardado and Joe Nathan.
Worthington was born on February 5, 1929, making him 35 years old when he began making his mark in Minnesota. Age 35 was quite advanced in those days. (I can imagine "Pop" Fisher of the movie screen saying "at your age you should retire.") Obviously Al had a well-developed baseball story before even coming here. He picked up the nickname "Red" but I don't recall that being used much if at all.

A background including Minnesota
Way back in 1950 he played semi-pro baseball in Fulda MN. It was there he met his wife. His skills gained notice. He came on board with the New York Giants who had their AAA farm club in Minneapolis, the Millers. He shuttled between the Giants and Millers in the mid-1950s. He pitched for the Millers in 1960, their last season of existence before the Twins were created (coming from Washington D.C. with their crusty owner, Calvin Griffith).
Worthington had a stint with the Chicago White Sox where he discovered they were crossing the line on ethics by stealing signs. He asserted himself, saying he'd rather pitch in the minors than be associated with that untoward behavior. His honesty may have nicked his professional development a little, but such a man was Worthington.
He had a stint with Cincinnati in 1963-64. I discovered a baseball card with him as a Red and that "Red" nickname on the front. But I recall no "Red" references once he pulled on that Twins uniform.
It's amazing that after that long time being a journeyman, Worthington could blossom in such a spectacular way over the mid-1960s. I wonder what he discovered to put him over the top - some new nuance with his pitches?
The Twins' starting pitchers showed signs of stress midway through the pennant year of '65. Worthington came on like that cavalry, and I'm sure Bob Casey intoned that "Allan" name with special elan. The Twins relievers were brought in by a convertible (red?) from the bullpen, remember? We'd watch "Allan" take off his warm-up jacket, gamely. Us young fans were sure Worthington would stymie the opposing batters.
Worthington followed his script in the first game I ever attended. It was a truly blessed occasion as Harmon Killebrew hit two home runs (I believe against Baltimore).

Closing the door (on foes) in 1965
In July of '65, Worthington pitched six times in seven days, earning three wins and three saves and allowing no earned runs. Our top Twins starter that season was Jim "Mudcat" Grant who I'm sure appreciated being backed by such a capable closer.
"Allan. . .Worthington!"
The crowd roars.
I didn't know it at the time, but Worthington threw with more of a sidearm delivery early in the season. He felt he didn't have his best stuff then. As the season progressed he developed more of an overhand style. I'm puzzled by that, but it worked.
At age 37, for the 1966 season, an anticlimactic one for our Twins, he started throwing some knuckleballs. He had experimented with the mysterious knuckleball for years. It was like Jim Bouton picking up the knuckleball in one's twilight years. The pitch doesn't depend on a real strong arm. The press once asked Phil Niekro's manager if Phil could start pitching on two days rest. The manager responded by saying "we're not worried about Niekro, we're worried about Uecker." (Uecker was the knuckleball-catching specialist who would develop a comic reputation, thus the manager's remark is seen humorously.)
Wilbur Wood was a knuckleball specialist of that time. I remember seeing Wilbur at the Met when he was washed up. As he walked off the mound, being relieved, the crowd was silent with one exception: one female fan who shouted "we love you Wilbur!" It wasn't taunting, it seemed affectionate. Of such trivial incidents are baseball memories made.
Baseball had been Worthington's life. Upon retiring, he took the head coaching position at Liberty University in Lynchburg VA. He had a stadium named for him. In 2011 he was inducted into the Alabama Sports Hall of Fame.
Worthington is worthy of any and all accolades. He taught us all what a relief pitcher really was. Our adrenalin would pump when we'd hear Bob Casey announce "Allan. . .Worthington!" The cavalry was here.
- Brian Williams - morris mn minnesota -
bwilly73@yahoo.com