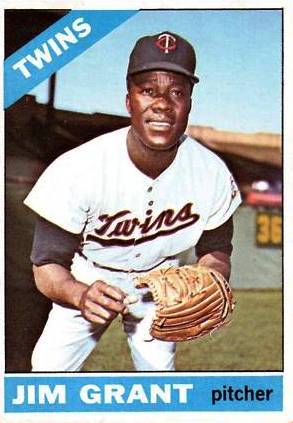 I remember being at Met Stadium on an unremarkable night when the Oakland A's were in town. Toward game's end - I don't remember who won - the A's called on a relief pitcher. A dark-skinned man strode out to the mound, wearing that gaudy A's uniform. There was a time when that man wore a Twins uniform. As an Oakland player he was in a new incarnation in his career, as it were. He was a relief ace, pitching as well as ever.
You could tell just watching him warm up that he was in command. There was a time when he was a stalwart starting pitcher. As a Twin he was a mainstay in that regard.
Pitchers have their ups and downs due to the rather odd physical demands on their body. Whitey Herzog once wrote that a pitcher "injures his arm every time he makes a pitch."
The Oakland pitcher had faded in his career for a time, then got re-fueled for an "encore" as a reliever. It's a trick that not many pitchers have turned. But this was one very special pitcher. And human being. He's still with us. We never would have had our 1965 pennant run without him. Not only did he help lead us to the World Series, he hit a home run in Game 6 at the Met.
Five years later as an Oakland A, he appeared at the Met under quite ordinary circumstances, and none of us there could have cared less that he was the "opposition" now. It appeared that Bob Casey didn't care either. Casey was the long-time P.A. announcer who always got your attention as game-time approached.
Late on this night when the Twins hosted the Oakland A's, Casey intoned the name of this man who had meant so much to us in 1965. "Now pitching for the A's," Casey said, "Jim. . .Mudcat. . .Grant!" He said it like it was old times. There was more than a smattering of applause among the fan turnout. We remembered that time when it seemed like a fairy tale: our big league ballclub reaching the apex of the World Series only five years after we had gotten big league ball.
Putting on a Twins cap
The Twins obtained Grant in June of 1964 and he showed signs of things to come. He had an 11-9 record as a Twin in '64. The '64 season was a curious one for the Twins: even though many of our well-known players put up good numbers, we finished in a lowly tie for sixth in the American League. Perhaps this showed how we can overrate power hitting. Any phase of the game can be overrated - Herzog would get addicted to the stolen base - and for the Twins, all the home runs just weren't translating to high competitiveness.
In those pre-Bill James days, we weren't enlightened and we tended to focus on certain stat categories that didn't tell the whole story. Sam Mele was smart enough to assess what was going on. Manager Mele was going to employ some "small ball" principles to augment the strengths we already had. He got assertive with the pitchers and brought in a coach to instruct them on "spin ballistics."
In '65 it seemed we had essentially the same team as the summer previous. But we garnered all kinds of success. Yes, it was like a fairy tale. We won the pennant up here on the tundra. We stole New York City's thunder, leaving the East Coast media - people like Roger Angell - somewhat chagrined, though they'd never admit it. Angell wrote a chapter about the '65 season which he called "West of the Bronx." He had to keep using the Big Apple as his frame of reference. He famously referred to our Metropolitan Stadium as an "airy cyclotron." A what? Well, he's Roger Angell so we'd better accept his terms - he writes for The New Yorker, after all.
Jim Grant, who had pitched in the majors since 1958, had his best season in 1965. He fashioned a 21-7 record. He was sixth in the MVP voting. He pitched 14 complete games among his 39 starts. His home run in World Series Game 6 was only the second by an American League pitcher in the Fall Classic.
Daylight: the way God intended for baseball?
Those were the days when weekday World Series games were played in daytime, not in the gloomy atmosphere of night, because it was a matter of principle to the people who ran the game. I'd find out that day's outcome when I got home from school.
The Twins took the Dodgers to seven games in the '65 Series. The three games played in Los Angeles were quite forgettable for us Twins fans. Not only was Sandy Koufax formidable, his fellow lefty Claude Osteen could turn the screws too. L.A. manager Walt Alston had to adjust his pitching rotation due to Koufax marking a Jewish holiday.
Koufax could seem other-worldly with his pitching talents in the 1960s. David Halberstam wrote that when Koufax blossomed as an overpowering pitcher, it wasn't primarily due to any technical adjustments the southpaw made. Halberstam explained that umpires began "calling the high fastball a strike." Perhaps this contributed to pitchers really taking over the game as the '60s progressed. The trend peaked in 1968, "the year of the pitcher," and after that some changes were made such as a lowered pitching mound. Hitting came back in 1969.
Jim "Mudcat" Grant had his ups and downs over his 14-year career but he ended up with 145 wins. He started 293 games. He twirled 89 complete games. His shutout total: 18. He racked up 53 saves as a reliever. He fanned 1,267 batters. His career ERA: 3.63.
Grant had a history with Cleveland before he arrived in Minnesota. He debuted with the Indians in 1958, at a time when I think we can safely say the welcome mat wasn't fully established for African-Americans, especially in the A.L. Our Calvin Griffith, Twins owner, did not come across as a real enlightened person - remember that famous speech he gave in Waseca. But he had no problem seeking top players of color, several from Cuba. Maybe it was pragmatism for him. But he employed players of color like Grant and gave them opportunity to become stars, a quality they could parlay after their retirement.
Did the players of the '60s have any idea how they could later make a fortune just going to memorabilia shows? Had they known that, they wouldn't have cared so much about owner Griffith being so penny-pinching. They would have just gone out and tried to win. Simply getting famous would be your ticket for the rest of your life. Harmon Killebrew didn't have to concern himself with working for E.F. Hutton. I believe that stint didn't end well for him. But Hammerin' Harmon could eventually make the rounds at events tailored for well-heeled sports fans. He offered his services as a speaker. It would have been wonderful having him come to Morris MN. He left us too soon, felled by cancer.
Grant had a 15-9 record with 3.86 ERA with Cleveland in 1961. He most likely pitched at our Met Stadium in that seminal year for Twins baseball. Our team was transplanted from Washington D.C.
The curmudgeonly Griffith was a hero. We didn't care what side of the generation gap he was on. Eventually he broke down and allowed modern pop music to be played over the stadium sound system. Writer Patrick Reusse teased him on that, suggesting that Calvin's idea of a snappy tune was "On the Banks of the Wabash."
Boomers adopted the "Kicks"
My generation didn't really buy the Twins as becoming hip, even when they started wearing those tight-fitting polyester uniforms. (Ouch!) My generation instead turned to the Minnesota Kicks soccer team. The Kicks were "cool."
You could argue us young fans turned out more for the extracurricular stuff, the fooling around in the parking lot, more than the soccer. Writer Joe Soucheray, in recalling the profile of the average Kicks fan, came to the category of "sex," purportedly meaning gender of the average Kicks fan, but instead of suggesting "male" or "female," he wrote "definitely!" These fans had hormones.
Unfortunately the Twins came to be seen as passe - yes they did, don't deny it. By the end of the '70s, we had unfortunately come to take the Twins for granted, and mostly just yawned about them or belittled them. We saw baseball as boring and irrelevant.
I would suggest we had been through too much disappointment. We were edged out for the pennant at the end of 1967. We won the division in 1969, the first year of East/West divisions, but got dominated by Baltimore in the playoffs. It was ditto in 1970 vs. Baltimore again.
Rod Carew created some excitement in the 1970s. But under Gene Mauch we never seemed destined to really rise to the top. Mauch drove me nuts with his platooning. Twins attendance dropped dramatically toward the end of the 1970s. A new stadium would be a must to resuscitate the franchise. Strange. How can a stadium mean that much?
We got the Dome. Years later we were told we needed outdoor baseball again. You have to follow the bouncing ball and sing along. Or, listen to the cash register.
"Mudcat" Grant grew up in the Florida lumber town of Lacoochie, population 1000, west of Orlando. There was no high school there. Jim rode the school bus seven miles, but because of his sports involvement, the bus wasn't an option at the end of the day. His father had died when Jim was two years old. He had no auto transportation available. He literally "hitched" rides or would walk.
Jim developed into a multi-sport athlete. He made his pro baseball debut in Fargo ND in 1954. Reportedly it was there that he picked up the "Mudcat" nickname (from a teammate, LeRoy Irby).
How can you hit a "Kickapoo pitch?"
Grant eventually got some tutelage from none other than Satchell Paige, an American original if there ever was one. The African-American Paige was born too soon. We'll never know how good a big league pitcher he could have been. He had unusual and amusing names for his pitches. I first learned about this in Jim Bouton's book "Ball Four." Bouton reported that one of Paige's pitches was called "bat dodger."
Grant, after conferring with the legendary character Paige, came up with some of his own pitch names: "kickapoo pitch," the "hop and jumper" and "cloud ball." Grant explained that his cloud ball would "get a little wet from the air." Translation: it was a spitball. Grant never denied he threw a spitball.
Jim's mother Viola cultivated an artful and entertaining flair in Jim who would develop a nightclub act. I remember the name from when I was young: "Mudcat and the Kittens." It was not a gimmick that played on his athletic celebrity. The man could really entertain.
Grant like early Twin Vic Power was not the passive kind of wallflower that the major leagues preferred in its black athletes in those days. Grant and Power carried a special style and articulateness, not that I'm disparaging players who seemed more pedestrian.
Grant claims his mom taught him his philosophy of life: "Live simple, live prayerful and never ask more from a person than you would expect from yourself."
Grant has always expressed special pride in having been an African-American major league pitcher. He released a book in 2006 called "The Black Aces, Baseball's Only Black 20-game Winners." There are 15 in this circle including Grant.
I once watched Vida Blue at the Met at the peak of his abilities. I'll never forget it.
Grant also speculated on Negro League pitchers who he felt would have won 20 games. In 2007 President Bush honored Grant and three other former black pitchers in a ceremony at the White House.
In 2008 Grant threw out the ceremonial first pitch at Progressive Field in Cleveland. This coincided with his 50th anniversary of his big league debut. Mudcat even got the "key to the city!"
Jim "Mudcat" Grant gave us Minnesotans the best of his pitching talent. We'll never forget it. And I'll never forget that night at Met Stadium when he pitched with a flair again as a reliever for Oakland (probably in 1970).
Thanks for the memories, Jim. You're an inspiration for everyone who ever had to walk home from school!