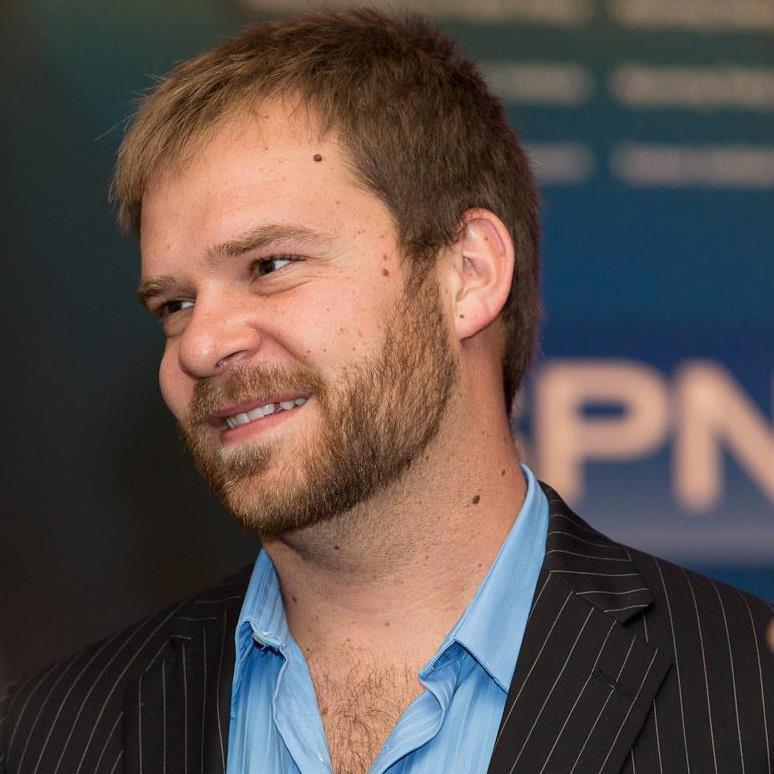 Joe Basel (image from Twitter)
Joe Basel proceeds undeterred. Should I be surprised?
Basil is the political activist (on steroids) with a background in Morris and the campus community here. His name surfaced in connection with the NorthStar publication. He helped arrange for that controversial publication to be inserted with the Morris community newspaper. I was shocked when I saw it appear the second time with our Morris paper. I thought once was scandalous. But I'm 60 years old and I may have difficulty understanding the ways of the world today.
Conservatives had no real place on college campuses in the 1970s. Today they are aggressive and attention-getting. I just don't understand the NorthStar. I understand conservatism and libertarianism. I have no problem consuming ideas from these people. A tastefully edited libertarian publication at the University of Minnesota-Morris would fit in nicely. The NorthStar appears to have a disruptive purpose.
And, when you read about Basel's current activities, it seems consistent.
We learn from the Houston Chronicle that Basel, of the American Phoenix Foundation, "has employed up to 16 people to track Texas Republicans
with hidden cameras in order to record potentially embarrassing or provocative footage. The group aims to use the reported 800 hours of tape to unseat the lawmakers in favor of more rightward leaning candidates in the next election cycle."
Republicans?
Continuing: "(Recent) encounters at the capitol were described by lawmakers as attempts to provoke responses on hot-button policy issues, along with questions about Republican House Speaker Joe Straus, a consistent target of criticism in tea party circles.
"Lawmakers said cameras were disguised as lapel pins or hidden in a briefcase, and some characterized the incidents as harassment because the men repeatedly pursued legislators through the hallways of the Capitol and off Capitol grounds. One lawmaker was approached while eating dinner with his wife at a Tex-Mex restaurant in downtown Austin. 'It's like they were almost stalking us,' said Rep. Patricia Harless, R-Spring, who navigated a detour through the Capitol with another female lawmaker last Friday to avoid the group. 'It's a sleazy campaign tactic,' state Rep. Charlie Green, a Fort Worth Republican who was approached three times last week, said of the secret videotaping. 'There's some real scumbags in this business.' "

Background: Basel was arrested along with right-wing provocateur James O'Keefe for allegedly bugging then-Senator Mary Landrieu's (D-LA) phone in 2010. The two pleaded guilty and were sentenced to probation. At least one of the videographers currently employed by Basel has been arrested for trespassing, in that case while working for the late Andrew Breitbart.
The recent incidents have Texas legislators on edge, as there have already been confrontations this session with aggressive advocates, leading to the proposed installation of panic buttons in lawmakers' offices.
I would suggest there is a stench to both this activity and the NorthStar here in Morris. I have a hard time explaining it.
So, will NorthStar be back on the UMM campus next year? Does it have Koch Brothers connections? I have been disturbed by how this publication has not seemed to be your typical alternative journalism project by a rag-tag bunch of students. Such publications can enhance the college atmosphere. The problem with Northstar is that it seems to have a power behind it, what I would describe as a sinister kind of power, at times seemingly bigger than the U's own administration. It sets out to hurt people, in my view.
It's summer now and things are quiet, thank goodness.

New high school principal official today?
Word is, the Morris Area school board will approve Bill Kehoe as our new high school principal today (Monday).
In the meantime, I wonder how the job-hunting is going for his predecessor. Our board has a vested interest in seeing the previous principal get gainfully employed again. If he doesn't, we'll be paying insurance expenses for him for a year. I'm not sure why. I'm not sure why we owe anything to him or should be doing him any special favors. He didn't earn them.
I'm not sure the school board has been fiscally responsible in handling all this. They might say they had to listen to advice from their lawyer or lawyers. At a certain point, this sounds like a cop-out. I would suggest the lawyer is doing a little CYA. A lawyer might feel he has nothing to lose in recommending a course of action that gives slack and security to the principal. If he were to recommend otherwise, and it blew up, legally, he'd have egg on his face, but the odds might be only slim of this happening. No school district should be made to accept a state of affairs where the high school principal is on leave because of having been charged with first degree criminal sexual conduct. It doesn't pass the smell test, as it were.
Am I saying the emperor has no clothes? Maybe that's not the most fitting citation.
A source tells me that the individual in question actually came close to securing a new education job in Minnesota, not far from here actually: a middle school principal position. In the end the board there turned thumbs down, not surprisingly. If he stays close to Morris, would Peterson continue a bond with the teachers here? I have seen school controversies come and go through the years. I guess this is just another one.
Don't look for Bill Kehoe to get into any sort of trouble. I used to work with his mother. His father gave golf cart rides to my mom and I, to and from the UMM campus mall on the day of graduation. We had almost given up attending. Thanks to Andy Lopez too. I'm not sure the circle drive should have been barricaded off. Maybe a lawyer recommended that too. I wonder if the new "Jurassic World" movie has a dinosaur eating a lawyer like in the first one. That scene showed that "dinosaurs aren't all bad," according Weird Al Yankovic.

The big prison break
Oh no, don't tell me it was a "saw in a cake." Well, it certainly wasn't that simple, but somehow those two very unsavory characters out east were able to cut their way out of their maximum security surroundings. That was miraculous in and of itself.
Then another miracle happened: they got loose and haven't been heard from since. Considering all the resources employed to try to find them, and how perilous "living in the wild" can be, there is no logic to realizing they're simply on the loose. So, here is my theory: I think it's organized crime. The people involved in this probably don't give a rip about the two individuals. What they want is to embarrass the New York state government, its penal system and Governor Cuomo personally. It wouldn't take much for organized crime to simply arrange for a room for these two guys somewhere.
Remember the sign in Appleton MN that said "do no pick up hitchhikers?" I wonder if it's still there. No, I think a lot more than "hitching" is involved in the two scoundrels out east making their escape. It has given much fodder for the cable news networks.
Meanwhile here in Motown, we're just thankful we didn't get those 90 MPH winds that Worthington reportedly got last night. Such drastic weather just supports what Pope Francis is saying, don't you think? Republicans have to gnash their teeth while listening to the Pope. Will many of them have to consider finding a new church?
- Brian Williams - morris mn minnesota -
bwilly73@yahoo.com